Reading Time:
2
minutes
We are SIO Tech World SA, a technology company based in Cape Town South Africa.  We are in the process of building a groundbreaking solution that will take the financial world by storm. At the helm is Irlon Terblanche, an experienced and accomplished banker who is supported by a small but strong technical team.
The solution that we are developing utilizes Bitcoin and smart contracts as the underlying payment and transactional engine that brings benefits to users in their normal, everyday currencies. Users of the solution will not even have to know that it is powered by Bitcoin in the background. We are in the process of patenting the solution because it will turn our world of money and banking on its head, in a way that has not been seen before.
The development effort has progressed quite far, with several modules already having been tested on the Bitcoin testnet. We are launching a crowdfunding campaign on 4 October to raise additional funds to complete the development and scaling of the solution.
With this solution, people or companies will be able to side-step foreign exchange limitations on cross-border payments, without contravening cross-border payment regulations. Payments are a very lucrative industry, and we are intent on having our entire user-base benefit from this.
Our solution will also allow for people to automatically grow their (fiat) money as the bitcoin price moves up or down. Larger bitcoin price swings, up or down, will generate more gains. The engine in the background that enables this is very different to the conventional trading algorithms that utilise long and short trades to benefit from price movements.
A key feature of our solution is that it targets everyday (fiat) users, not only cryptocurrency users. The user-base is just about anyone in the world, whether you are an individual or a corporate.
Our solution will redistribute wealth away from banks and profligate governments, back to ordinary individuals who currently have their wealth eroded because of unsound monetary practices. It will be a truly decentralized solution. Peers will negotiate with one another. We will not intermediate or set pricing between participants. We will not accept any customer's money or cryptocurrency and will never be the counterparty to any transaction.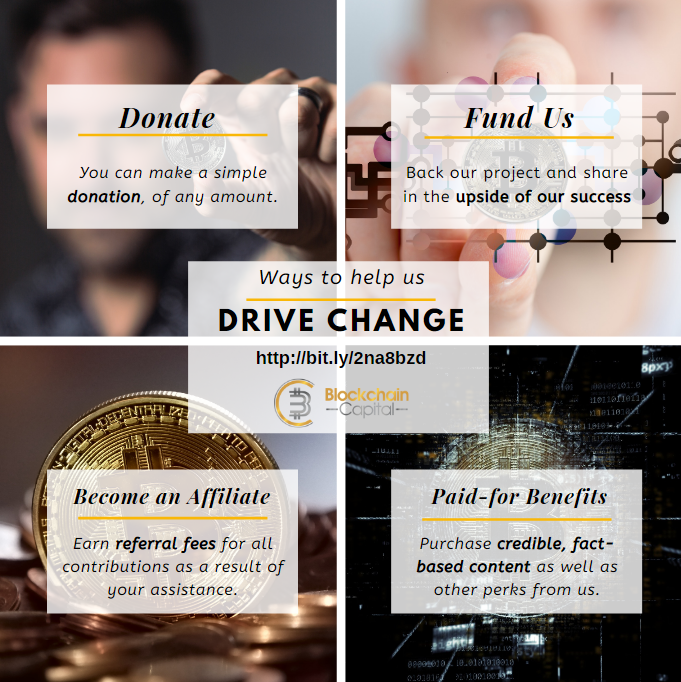 We are not issuing a token (at least not yet) but will return your investment and returns in December 2020. We also have a calculator on our campaign page that will give you a sense of the kinds of returns you can expect based on worst-case, expected and optimistic scenarios. In addition to giving you a return on your investment, we will also make various paid-for benefits available to you.
A refreshing component of this crowdfunding initiative is that we have created an Affiliate mechanism whereby people who either have some understanding of decentralized finance, or access to investors, can earn 10% of all investments that were made based on their referrals.
Our website is rich with original content, and this should give backers a sense of comfort about our competence.
You will be able to access the campaign via https://siotechworld.com/product/help-us-drive-change/ as of 4 October. The campaign will only run until the end of November. Those who are interested in early access to the campaign, in order to sign up as affiliates, can contact us at [email protected].
You can also follow the team on various social media platforms, with a Telegram group available at https://t.me/bccglobal