Reading Time:
2
minutes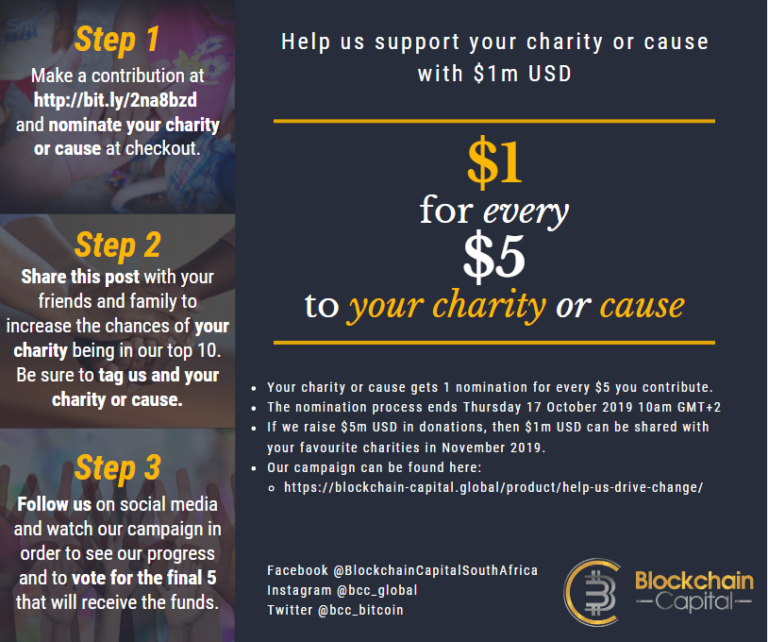 We are passionate about our cause. But we know that you have causes you are passionate about as well. Let's help each other.
Starting 5 October 2019 at 9 pm GMT+2, you will have the ability to nominate and vote for charitable organisations, with whom we will share 20% of all donations we receive during this campaign.
You will be able to nominate and provide contact details of your favourite charity by making a contribution to our campaign before 17 October 2019 at 10 am GMT+2. On Friday 18 October 2019, we will display the top 10 charitable organisations on our website from which you will be able to vote for the final 5 charities. Thereafter, contributors and investors will be able to select any of these organisations to receive $1 for every $5 donation we receive.
Our CEO, whose son is on the autism spectrum, will start the process and has nominated 'autism Western Cape' as an organisation he would like to support. You will see his donation (and the rest of our team's donations) on our contribution wall ;-)
To nominate a charity or cause, simply follow these 3 easy steps:
Make a contribution at https://siotechworld.com/product/help-us-drive-change/ – and provide all the required details of your charitable organisation. Your charity or cause gets 1 nomination for every $5 you contribute – only until 17 October 2019 at 10 am GMT+2.
If you dont have a charity in mind, here is a verified list of charities to choose from Charities.
Share this post with your friends and family to increase the chances of your charity being in our top 10. Be sure to tag us and your charity or cause.
Follow us on social media and watch our campaign in order to see our progress and to vote for the final 5 that will receive the funds in November 2019.
The final voting will take place from Friday 18 October 2019 to Monday 21 October 2019 at 10 am GMT+2.
If you are are a charitable organisation that has been nominated, then all you need to do is:
Follow us on social media. Our social media handles are available on this website.
Share this page with as many of your followers on social media, friends, family and professional connections. Use WhatsApp, email or any other means you prefer. Remember to tag us in your posts.
Remind your followers, members or other connections that the more they nominate you (each $5 donation) the better your chances are to be in the final 5, with whom will share 20% of all our donations. The proceeds will be paid out to you during the course of November 2019.